Mini Pumpkin Pie Croissants
We're smack dab in the middle of my favorite season of the year… Fall. I'm all about the vibrant colors, the cooler temps and the yummy sweets, especially anything that includes pumpkin.
I haven't always been a fan of the orange stuff, but just within the last few years, it's become an obsession of mine. I'm always in line at Starbucks on the first day that Pumpkin Spice Lattes are released and I'm that crazy lady you see at WalMart hoarding all the cans of Libby's Pumpkin Puree in her basket.
So I'm sharing with you today one of my new favorite treats… Mini Pumpkin Pie Croissants. I fell head-over-heels for these; with the sweetness, the spiciness and with the ease of preparation. It literally takes 10 minutes to put them together and just a short little while before they're exiting the oven, filling the house with that amazing rich scent. They're so quick & easy (and delicious), that they'll be making another appearance on my breakfast menu this Thanksgiving morning. Hope you love them as much as I do!
Mini Pumpkin Pie Croissants
Adapted from: Pressed Down, Shaken Together
Yields: 32 mini croissants
2 tubes refrigerated crescent rolls
4 oz cream cheese, at room temperature
1 c pumpkin puree
1 tbsp + 1-1/2 tsp pumpkin pie spice, divided
7 tbsp granulated sugar, divided
Preheat an oven to 375 degrees F and line two baking sheets with parchment paper.
Unroll each tube of crescent rolls out on a cutting board, then separate them based on the pre-scored lines. With each crescent roll, cut lengthwise into 2 triangles. After cutting all rolls from both tubes, you should have 32 triangles.
Beat together the cream cheese, pumpkin puree, 1-1/2 teaspoons of the pumpkin pie spice and 3 tablespoons of sugar until fluffy and creamy. In a separate bowl, whisk together the remaining 1 tablespoon of pumpkin pie spice and 4 tablespoons of sugar; set aside.
Spoon a generous tablespoon of the pumpkin-cream cheese mixture onto each croissant triangle, then roll them up (rolling from the widest part down to the point of the triangle). Take the spice-sugar mixture and roll each croissant in it, placing them on the prepared baking sheets seam-side down.
Bake each sheet separately for 10-15 minutes, depending on your oven. They should be a light golden brown color when they're ready.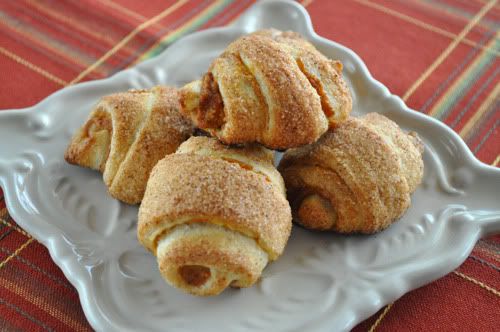 I am incredibly honored to be a contributing blogger for the new LiveSigmaKappa.com and I so look forward to the future of this amazing website!
Dove Love (and Happy Fall!),


This post was written by Jessica Reddick Gatlin. Contact Jessica at jessica@mybakingheart.com
Sigma Kappa Sorority's purpose is to provide women lifelong opportunities and support for social, intellectual and spiritual development by bringing women together to positively impact our communities. Our Sorority values individuality and diversity in our membership. As such, we ask our membership to consider the individual views of the women who post here within an atmosphere of care, respect and tolerance.
Pay Your Per Capita

Sigma Kappa Sorority now has the option for alumnae to pay their per capita fee through the Sigma Kappa website! Click the image above to learn about per capita and how you can contribute to our wonderful organization.

Still have questions about per capita? Click here to read our FAQs