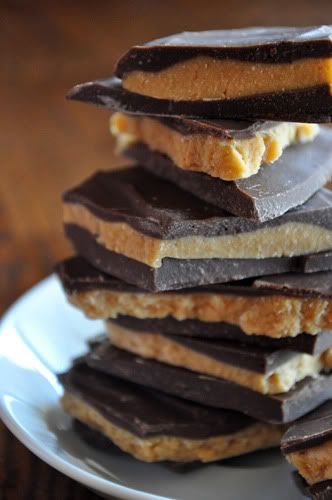 Christmas is here once again. It's a time for gazing at sparkly lights, bundling up in warm coats, giving pretty gifts, sipping hot cider, visiting family and baking lots of sweets. But somehow, it always seems to sneak up on me. Every year I know it's coming, but for some reason, I never feel like I'm ready! Trimming the tree, running errands, dropping off presents and attending holiday parties can leave you feeling drained. However, with a few 'quick & easy' gifts in your arsenal, it can go pretty smoothly!
I appreciate homemade gifts as much as the next person, but I love giving them even more, so I've been thinking about what I would hand out to my friends and family this year. What a surprise, though, that I received a tin full of homemade 'Buckeyes' as a holiday treat from my friend, Nicole! And after a little research, I came across this 'Buckeye Bark' and knew that it would be perfect wrapped up and tied with a pretty little ribbon. My next challenge?? To keep this post hidden from some very special recipients!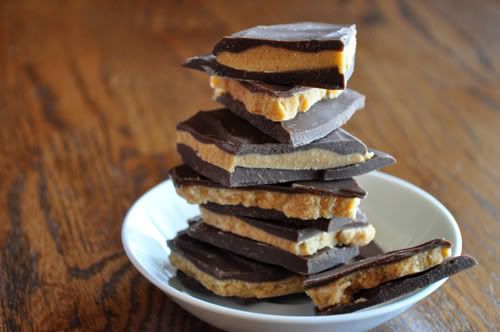 Buckeye Bark
Source: Big Red Kitchen
2-1/2 lbs chocolate candy coating
1 (16.3 oz) jar creamy peanut butter
2 c Confectioners' sugar
8 tbsp unsalted butter, melted
1 tsp pure vanilla extract
Melt half of the chocolate candy coating according to the package directions, then spread over parchment paper or a silpat-lined cookie sheet. Spread to a large rectangle, but not too thin – approximately 1/8″ to 1/4″ thickness. Place in freezer to firm up.
In a large bowl, beat together the peanut butter, Confectioners' sugar, melted butter and vanilla extract until smooth and creamy. Remove first chocolate layer from the freezer and spread the peanut butter mixture over the top. Return to the freezer and melt the remaining chocolate candy coating. Once that is melted, spread it over the top of the peanut butter layer and freeze until set.
Break up the bark into small pieces using a butcher knife. Store in the refrigerator or freezer until ready to serve.
Merry Christmas to you and yours!


This post was written by Jessica Reddick Gatlin. Contact Jessica at jessica@mybakingheart.com
Sigma Kappa Sorority's purpose is to provide women lifelong opportunities and support for social, intellectual and spiritual development by bringing women together to positively impact our communities. Our Sorority values individuality and diversity in our membership. As such, we ask our membership to consider the individual views of the women who post here within an atmosphere of care, respect and tolerance.
Pay Your Per Capita

Sigma Kappa Sorority now has the option for alumnae to pay their per capita fee through the Sigma Kappa website! Click the image above to learn about per capita and how you can contribute to our wonderful organization.

Still have questions about per capita? Click here to read our FAQs