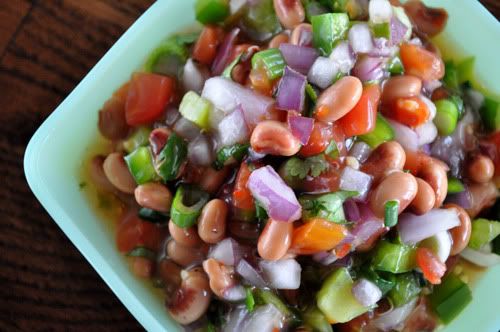 The New Year is a time for reflection. New beginnings, fresh starts and lots of good luck are always on our minds when the first of January rolls around. This is where 'Texas Caviar' comes in. Black-eyed-peas are said to bring prosperity when eaten on New Year's Day, so what better way to boost your luck than with this amazingly tart pea salad?
It's a simple recipe to put together – it takes just minutes and you can prepare it hours ahead of time! Paired with tortilla chips or Fritos, this dish is classically Southern. It's been a staple at our home since I was a little girl and it's one that I plan to serve for many years ahead!
Texas Caviar
Source: Momma G
Yields: 6 to 8 servings
1 (15 oz) cans black-eyed peas, drained & rinsed
1 (15 oz) petite diced tomatoes, drained
3/4 c green bell pepper, chopped
1 md red onion, chopped
3 green onions, chopped
1⁄4 c cilantro, minced
1 clove garlic, minced
1 (8 oz) bottle fat-free Italian salad dressing
In a large bowl, combine the peas, tomatoes, bell pepper, onions, cilantro and garlic. Pour salad dressing over pea mixture and, with a spatula, stir gently to coat. Cover and refrigerate for 12 to 24 hours.
And speaking of new beginnings? My (now) fiancé got down on one knee to propose a few days before Christmas! 2012 promises to be such an exciting year… and a super-busy one as well!
Wishing all the best to my Sigma Kappa sisters! Happy New Year (and eat your peas!)!

This post was written by Jessica Reddick Gatlin. Contact Jessica at jessica@mybakingheart.com
Sigma Kappa Sorority's purpose is to provide women lifelong opportunities and support for social, intellectual and spiritual development by bringing women together to positively impact our communities. Our Sorority values individuality and diversity in our membership. As such, we ask our membership to consider the individual views of the women who post here within an atmosphere of care, respect and tolerance.
Pay Your Per Capita

Sigma Kappa Sorority now has the option for alumnae to pay their per capita fee through the Sigma Kappa website! Click the image above to learn about per capita and how you can contribute to our wonderful organization.

Still have questions about per capita? Click here to read our FAQs