Valentine's Day PB Blossoms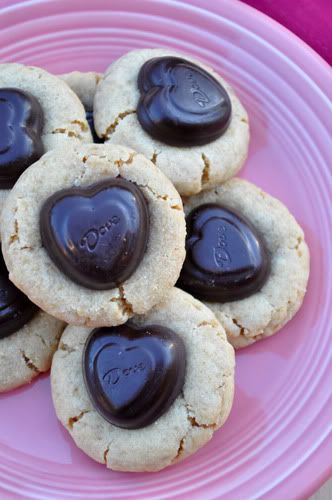 I have to admit that I first saw this idea on Pinterest and immediately, I fell head over heels in love. It brought perfectly to life what my idea of 'from the heart' means.
I'm a giver. Making people happy with a sweet surprise, seeing their faces light up and the joy they experience when they bite into a well-deserved treat… it simply makes me giddy. So, when prompted to write about the heart, I remembered these cookies that I'd pinned to my 'To-Do List' pinboard. I used a simple recipe that I adapted from The New York Times and have been spreading the love ever since they came out of the oven. I took a few to my neighbors next door, I've left one on the desk of a co-worker and I might have even snuck a couple of them myself. And using 'Dove' chocolates… very fitting, right?? 😉
Valentine's Day PB Blossoms
Adapted from: The New York Times
Yields: 2-1/2 dozen cookies
1-3/4 c all-purpose flour
1 tsp baking soda
1/2 tsp Kosher salt
8 tbsp unsalted butter, at room temperature
3/4 c smooth peanut butter
1/2 c granulated sugar, plus more for rolling
1/2 c light brown sugar, packed
1 lg egg
1 tbsp skim milk
1 tsp pure vanilla extract
1 (11 oz) pkg Dove Dark Chocolate Hearts, foil removed
Whisk together flour, baking soda and salt; set aside. Using an electric mixer, cream together butter, peanut butter, 1/2 cup granulated sugar and light brown sugar. Add egg, milk and vanilla; beat until well blended. Gradually add flour mixture, mixing thoroughly. If the dough is very soft, refrigerate for about 1 hour.
Preheat oven to 375 degrees F. Line a cookie sheet with parchment paper or a Silpat and set aside. Roll dough into 1-inch balls.
Roll cookies in sugar and place 2 inches apart on cookie sheet. Bake until very light brown and puffed, 6 to 8 minutes. Remove sheet from oven and lightly press a candy kiss into center of each cookie, allowing it to crack slightly. Cool completely* and store in an airtight container.
*You can also place the sheet of cookies in the refrigerator for a few minutes to speed up the cooling period, thus keeping your hearts from fully-melting!
Happy Valentine's Day, sweet sisters!


This post was written by Jessica Reddick Gatlin. Contact Jessica at jessica@mybakingheart.com
Sigma Kappa Sorority's purpose is to provide women lifelong opportunities and support for social, intellectual and spiritual development by bringing women together to positively impact our communities. Our Sorority values individuality and diversity in our membership. As such, we ask our membership to consider the individual views of the women who post here within an atmosphere of care, respect and tolerance.
Pay Your Per Capita

Sigma Kappa Sorority now has the option for alumnae to pay their per capita fee through the Sigma Kappa website! Click the image above to learn about per capita and how you can contribute to our wonderful organization.

Still have questions about per capita? Click here to read our FAQs