After baking hundreds of different brownie recipes, I've never come across a dud. Sure, some have been a tad better than others, but none have been worthy of the trash can. Brownies seem to be the lucky recipe for me. I've included peanut butter, mint, cinnamon chips, caramel, cookie dough and like the ones below, alcohol. It's always a win-win with brownies… C always asks for them, so they're definitely a lucky dessert for me!
These 'Lucky' Baileys Brownies are totally in fashion for Spring. They're dense, fudgy and carry a smooth finish, thanks to the Baileys. Perfect for showers, cookouts or even your St. Patrick's Day Party – they make for a very appropriate dessert-table treat!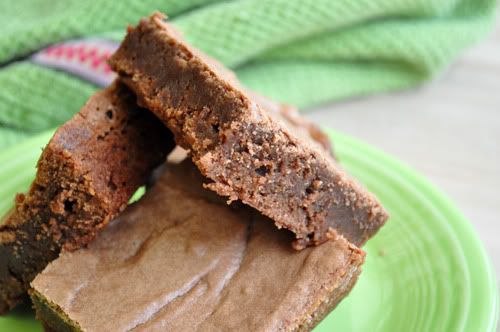 'Lucky' Baileys Brownies
Adapted from: How Sweet It Is
8 tbsp unsalted butter
6 oz bittersweet dark chocolate, at least 60% cacao
1 c Splenda for Baking
1 tsp pure vanilla extract
2 large eggs
1 c all-purpose flour
1/4 c Baileys Irish Cream Liqueur
Preheat oven to 350 degrees F. Melt butter and chocolate in a microwave safe bowl. Add mixture to a medium mixing bowl, along with the Splenda for Baking and vanilla extract; whisk until fluffy, about 2-3 minutes. Add in eggs, whisking one at a time. Add flour and stir just until combined, then stir in Baileys.
Pour into a greased 8″x8″ baking pan. Bake for 35-45 minutes, or until just barely done.
What's a lucky dish for you… one that always comes out perfectly??
Love in the Dove,


This post was written by Jessica Reddick Gatlin. Contact Jessica at jessica@mybakingheart.com
Sigma Kappa Sorority's purpose is to provide women lifelong opportunities and support for social, intellectual and spiritual development by bringing women together to positively impact our communities. Our Sorority values individuality and diversity in our membership. As such, we ask our membership to consider the individual views of the women who post here within an atmosphere of care, respect and tolerance.
Pay Your Per Capita

Sigma Kappa Sorority now has the option for alumnae to pay their per capita fee through the Sigma Kappa website! Click the image above to learn about per capita and how you can contribute to our wonderful organization.

Still have questions about per capita? Click here to read our FAQs