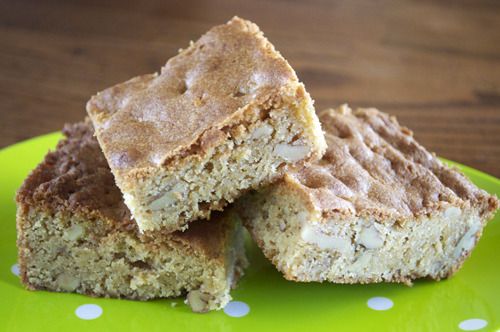 Welcome to Live Sigma Kappa's 'Kickoff to Summer'!! Can you believe that it's already May?
I just returned from a special week spent at the most magical place on earth, and since Disney is still fresh on my mind, I chose these 'Caribbean Sand Bars' as a sweet, summery treat to share with you today. The name not only evokes a lazy day spent on the beach, but the recipe happens to come straight from one of my favorite cookbooks, Cooking with Mickey, Vol. II. They're chock full of walnuts and pecans, while the brown sugar gives the squares a sweet, sandy texture. The recipe even doubles perfectly to fit in a 9″ x 13″ pan for all those pool parties!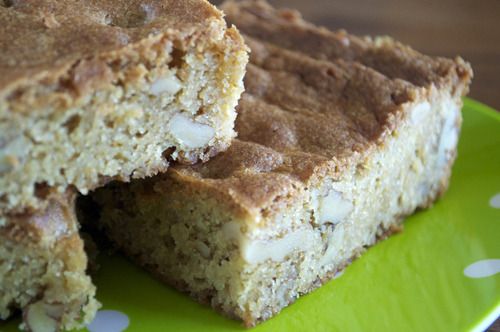 Caribbean Sand Bars
Adapted from: Cooking with Mickey, Vol. II
Yields: 9 (3-inch) squares
10 tbsp unsalted butter, at room temperature
1-1/4 c light brown sugar, firmly packed
1 c all-purpose flour
1/2 tsp kosher salt
1 tsp baking powder
2 lg eggs
1 tsp pure vanilla extract
1 c walnuts, chopped
1 c pecans, chopped
Preheat oven to 375 degrees F and spray a 9″x9″ pan with nonstick spray. In a medium-sized bowl, sift together the flour, salt and baking powder, and set aside.
Cream butter and brown sugar together until smooth. Add eggs, one at a time, and beat until smooth and creamy. Add vanilla, and stir well. Then add flour mixture and blend completely. Fold in nuts, and spread batter evenly in greased pan.
Bake for 25 to 30 minutes or until golden brown. Remove from oven and cool completely before cutting.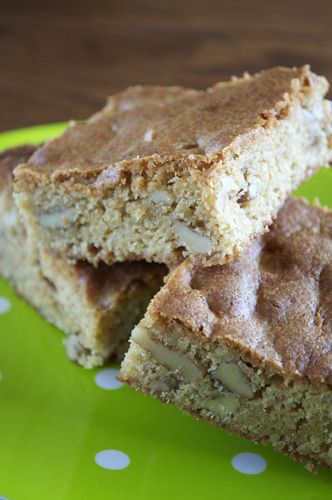 What's your favorite treat to serve when you're kicking off summer??

This post was written by Jessica Reddick Gatlin. Contact Jessica at jessica@mybakingheart.com
Sigma Kappa Sorority's purpose is to provide women lifelong opportunities and support for social, intellectual and spiritual development by bringing women together to positively impact our communities. Our Sorority values individuality and diversity in our membership. As such, we ask our membership to consider the individual views of the women who post here within an atmosphere of care, respect and tolerance.
Pay Your Per Capita

Sigma Kappa Sorority now has the option for alumnae to pay their per capita fee through the Sigma Kappa website! Click the image above to learn about per capita and how you can contribute to our wonderful organization.

Still have questions about per capita? Click here to read our FAQs