Hominy Chili & Chile-Cheese Cornbread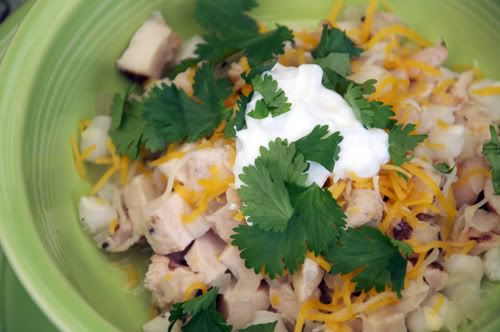 It's finally that time of year… cooler weather, brightly-colored leaves, flowing scarves, sweet pumpkin spice lattés, and college football!! Are you ready to get your tailgate on?
If you're anything like me, you've been itching for September to show its pretty little face. And since my fiancé and I are the proud new owners of a tailgate spot at TCU's beautifully renovated Amon G. Carter Stadium, I've got my tailgating recipes handy! These Hominy Chili and Chile-Cheese Cornbread recipes are not only perfect for pregame celebrations, but also at home during those chilly winter months. It's packed with good-for-you veggies, protein-filled chicken, and tons of flavor. And the cornbread's got a kick, too!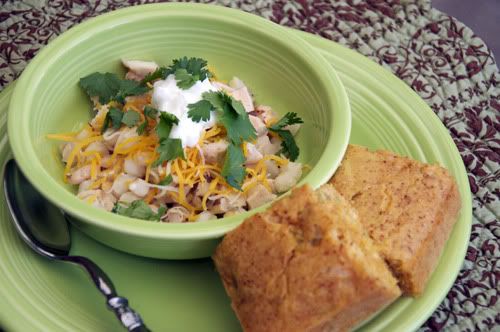 Hominy Chili
Adapted from: Tailgating by Better Homes & Gardens
1 (15.5 oz) can white hominy, drained
1 (15 oz) can great northern beans, rinsed and drained
1 (14.5 oz) can reduced sodium chicken broth
2 (6 oz) pkgs refrigerated grilled chicken breast strips
1 med onion, chopped
1/4 c lime juice
1/2 tsp ground cumin
1/4 tsp ground black pepper
1/2 c fresh cilantro, chopped
1 c colby & Monterey Jack cheese, shredded
1 c fat-free sour cream (optional)
White corn tortilla chips, coarsely crushed (optional)
The day before:
In a 4 to 5-quart slow cooker, combine hominy, beans, broth, chicken, onion, lime juice, cumin, and pepper. Cover and cook on low for six to seven hours or on high for three to four hours; cool slightly. Transfer chili to storage container; cover and chill overnight.
Tailgate day:
Return chili to slow cooker. Cover and reheat on high for 1-2 hours or until heated through. Tightly cover slow cooker and tote in an insulated carrier. Tote cilantro, cheese and sour cream in an insulated cooler with ice packs. At the tailgating site, plug slow cooker into a car adapter to keep chili warm. Top each serving with cilantro, cheese, sour cream and tortilla chips. Makes four servings, but is easily doubled or tripled.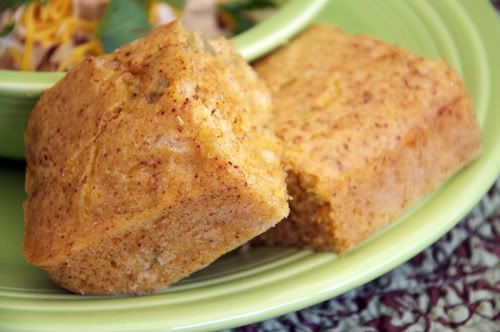 Chile-Cheese Cornbread
Adapted from: Tailgating by Better Homes & Gardens
1 c all-purpose flour
3/4 c cornmeal
2-3 tbsp granulated sugar
2 1/2 tsp baking powder
3/4 tsp Kosher salt
2 eggs, lightly beaten
1 c skim milk
1/4 c vegetable oil
1 c colby & Monterey Jack cheese, shredded
1 (4 oz) can diced green chiles, drained
1-2 tsp chili powder
The day before:
Preheat oven to 400 degrees F. In a medium bowl, whisk together flour, cornmeal, sugar, baking powder, and salt; set aside. Spray an 8x8x2-inch baking pan or disposable foil pan; set aside as well.
In a small bowl, combine eggs, milk and oil. Add egg mixture all at once to flour mixture, stirring just until moistened (batter should be lumpy). Fold in cheese, chiles and chili powder. Pour batter into the pan, spreading evenly. Bake for 15 to 20 minutes or until a toothpick inserted near the center comes out clean. Cool in pan on a wire rack. Wrap cornbread in pan in a double thickness of heavy foil and chill overnight.
Tailgate day:
Tote cornbread in pan in an insulated cooler with ice packs. Prepare the grill at the tailgating site. For a charcoal grill, reheat foil-wrapped cornbread on the rack of an uncovered grill directly over medium coals for about 15 minutes or until heated through. For a gas grill, preheat grill. Reduce heat to medium. Place foil-wrapped cornbread on grill rack over heat. Cover and reheat as above. Makes 9-12 servings.
GO Frogs!!

This post was written by Jessica Reddick Gatlin. Contact Jessica at jessica@mybakingheart.com
Sigma Kappa Sorority's purpose is to provide women lifelong opportunities and support for social, intellectual and spiritual development by bringing women together to positively impact our communities. Our Sorority values individuality and diversity in our membership. As such, we ask our membership to consider the individual views of the women who post here within an atmosphere of care, respect and tolerance.
Pay Your Per Capita

Sigma Kappa Sorority now has the option for alumnae to pay their per capita fee through the Sigma Kappa website! Click the image above to learn about per capita and how you can contribute to our wonderful organization.

Still have questions about per capita? Click here to read our FAQs