Fall Favorites: Slow-Cooker Lasagna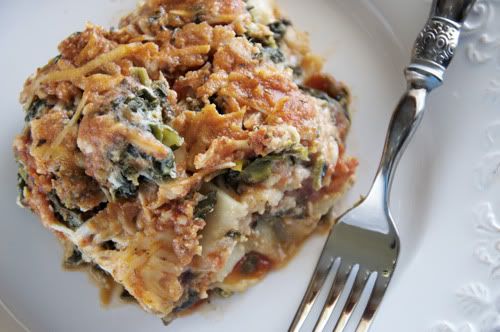 October is finally here. And it seems like only yesterday that I shared my engagement news with you. In less than three weeks, I'll be a married lady! So, you can imagine how busy I've recently been. Last-minute meetings and decisions have been occupying any free time that should come my way, so when I find a recipe such as the one below, I jump on it with all my might!
This one is perfect, because it cooks while you're working, studying, shuttling kids to and from after-school activities, or anything else that life throws your way. And… it makes for wonderful leftovers. The cleanup is a breeze, too. Just the slow cooker insert and a few bowls to wash, and you're done!
There's nothing better than a filling, slow cooker meal to feed a busy family during the week. Have a favorite slow cooker recipe? Share it below!
Slow Cooker Spinach Lasagna
Adapted from: Real Simple
2 (10 oz.) pkgs chopped, frozen spinach, thawed and squeezed to remove excess moisture
1 c ricotta cheese
3/4 c grated Parmesan
2 cloves garlic, minced
3 c marinara sauce
6 lasagna noodles (not no-boil)
2 c grated mozzarella
In a bowl, mix together the spinach, ricotta, 1/2 cup of the Parmesan, and the garlic. In a second bowl, mix together the marinara sauce and 1/2 cup water.
Spread 3/4 cup of the marinara mixture in the bottom of a 4 to 6-quart slow cooker. Top with 2 noodles (breaking to fit), 3/4 cup of the remaining marinara mixture, half the spinach mixture, and 1/2 cup of the mozzarella; repeat. Top with the remaining noodles, marinara mixture, mozzarella and Parmesan.
Cover and cook on low until the noodles are tender, 3-1/2 to 4 hours.

This post was written by Jessica Reddick Gatlin. Contact Jessica at jessica@mybakingheart.com
Sigma Kappa Sorority's purpose is to provide women lifelong opportunities and support for social, intellectual and spiritual development by bringing women together to positively impact our communities. Our Sorority values individuality and diversity in our membership. As such, we ask our membership to consider the individual views of the women who post here within an atmosphere of care, respect and tolerance.
Pay Your Per Capita

Sigma Kappa Sorority now has the option for alumnae to pay their per capita fee through the Sigma Kappa website! Click the image above to learn about per capita and how you can contribute to our wonderful organization.

Still have questions about per capita? Click here to read our FAQs