White Chocolate Cranberry Snickerdoodles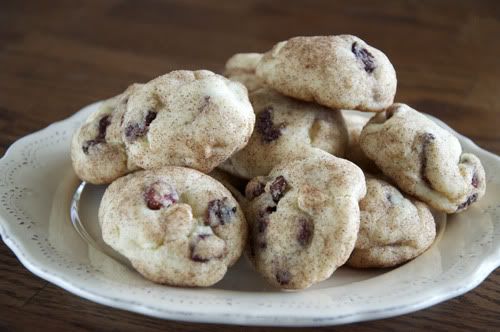 Since our theme this month is about giving thanks, it's only fitting that I express how thankful I am for having the opportunity to contribute to Live Sigma Kappa over the past year. A lot of exciting things have happened since November 2011 that I'm extremely thankful for – baptizing my new niece & goddaughter, getting engaged & married to my best friend, gaining a new family & strengthening my own, and making friends with sisters from around the world are just a few examples.
So, to show you just what a thankful gal I am, I baked up a few batches of these White Chocolate Cranberry Snickerdoodles. It may sound odd at first, but once you eat one (or three), you'll fall in love! They're quick to prep and make fabulous gifts too… I even added them to my out-of-town wedding guest bags at the hotel!
White Chocolate Cranberry Snickerdoodles
Source: My Baking Heart
Yields: 36 cookies
2-3/4 c all-purpose flour
2 tsp cream of tartar
1 tsp baking soda
1/2 tsp kosher salt
1 c unsalted butter, at room temperature
2 c granulated sugar, divided
2 large eggs
1 c white chocolate chips
1 c dried cranberries
2 tsp ground cinnamon
Preheat oven to 350 degrees F and line three baking sheets with parchment paper or a silicone baking mat. In a medium bowl, whisk together the flour, cream of tartar, baking soda and salt; set aside. In a larger bowl, cream together the butter and 1-1/2 cups of sugar. Add the eggs one at a time, and mix completely. Add flour mixture to butter mixture and mix well. Carefully fold in the chocolate chips and cranberries.
In a small bowl, whisk together the remaining 1/2 cup of sugar with the cinnamon. Shape dough into 1 inch balls and roll in the cinnamon sugar mixture. Place 2 inches apart on your prepared baking sheets, and bake for 8-10 minutes or until cookies are a light golden brown in color. Remove to cooling racks and cool for 5-10 minutes.

This post was written by Jessica Reddick Gatlin. Contact Jessica at jessica@mybakingheart.com
Sigma Kappa Sorority's purpose is to provide women lifelong opportunities and support for social, intellectual and spiritual development by bringing women together to positively impact our communities. Our Sorority values individuality and diversity in our membership. As such, we ask our membership to consider the individual views of the women who post here within an atmosphere of care, respect and tolerance.
Pay Your Per Capita

Sigma Kappa Sorority now has the option for alumnae to pay their per capita fee through the Sigma Kappa website! Click the image above to learn about per capita and how you can contribute to our wonderful organization.

Still have questions about per capita? Click here to read our FAQs