Dark Chocolate 'Sugar & Spice' Pretzels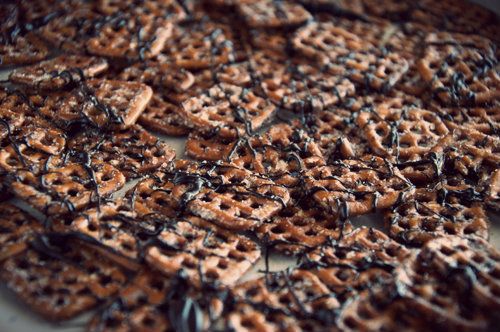 Is your household ready for Christmas? I wish I could say that mine is. 2012 completely flew by and it seems that I've been behind for the majority of the year. I normally have the house decorated by this time, presents wrapped and beginning to appear underneath the tree. However, it seems that I'm still unpacking from the honeymoon! So, to relieve a little holiday stress, I decided to get into the kitchen for a little sweet therapy.
Making these was a huge mistake, though. Now don't get me wrong… they weren't complicated to put together or even timely in their preparation; however, I'm having a super hard time resisting the temptation to eat them all in one sitting!
These were originally planned as Christmas gifts to spread cheer around the office, but unfortunately, I don't think I'll have enough left! Thank goodness they're incredibly easy to make: their no-bake recipe is simple and straight-forward. The hardest part is waiting for the smooth, drizzled chocolate to set up!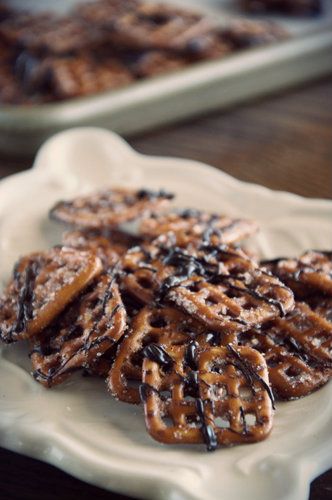 Dark Chocolate 'Sugar & Spice' Pretzels
Adapted from: Your Homebased Mom
2 (9 oz) bags Snyder's Butter Snaps pretzels
2/3 c canola oil
1/3 c granulated sugar
1-1/2 tsp ground cinnamon
Extra cinnamon sugar, for sprinkling
3/4 c dark chocolate chips, for drizzling
Line three baking sheets with parchment paper or a silicone baking mat; set aside. Place the pretzels in a large microwave-safe bowl. In a separate medium-sized bowl, whisk together the oil, sugar and cinnamon. Pour the oil mixture over the pretzels and stir well, making sure to evenly coat the pretzels.
Microwave the pretzels for one minute on high. Check the pretzels and stir the mixture, then continue to microwave for one minute more. When out of the microwave, stir again to make sure they are all coated.
Spread the pretzels onto your three baking sheets, making a single layer of pretzels. While they are still hot, sprinkle additional cinnamon sugar over the top, if desired. Melt dark chocolate chips in the microwave in 30-second bursts. Drizzle over the top of the pretzels and let chocolate harden. When cool, store pretzels in airtight containers.
An early 'Merry Christmas' to you & yours!

This post was written by Jessica Reddick Gatlin. Contact Jessica at jessica@mybakingheart.com
Sigma Kappa Sorority's purpose is to provide women lifelong opportunities and support for social, intellectual and spiritual development by bringing women together to positively impact our communities. Our Sorority values individuality and diversity in our membership. As such, we ask our membership to consider the individual views of the women who post here within an atmosphere of care, respect and tolerance.
Pay Your Per Capita

Sigma Kappa Sorority now has the option for alumnae to pay their per capita fee through the Sigma Kappa website! Click the image above to learn about per capita and how you can contribute to our wonderful organization.

Still have questions about per capita? Click here to read our FAQs