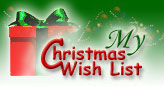 Over the past few weeks, the Christmas lists and ideas have been flying around our house. My girls' lists start with big electronic items from a certain fruit store, followed by stilts, odd t-shirts, shoes, sunglasses and bows. My own list started out with the possibility of an e-reader or tablet. This has been followed by much debate and research. The coversation with my husband has gone something like this:
Me: I think maybe the e-reader with the new paper white screen looks nice…even comes with 3G
Husband: (Looks it up) announces that the 3G is not needed, why would you pay the extra money when the other cheaper one has Wi-Fi capabilities?
Me: Because you can't always get Wi-Fi, and what if I need another book?
Husband: that's not the one you need…you want one that you can check your mail…
Me: I can do that on my phone
Husband: and one you can play games…
Me: I can do that on my phone
Husband: and one you can surf on the Internet…
Me: I can do that on my phone
SIGH—more research…
Me: This tablet looks nice, does quite a bit…but it calls its operating system ice cream?? I'm confused
Husband: Hmm….really?
Me: and supposedly the new one coming is called jelly bean?
Husband: You know, there are other things on your wish list…
The debate goes on and my confusion with which one to choose continues. How many options does one need? Do I need to watch tv when I'm not at home? Do I need a camera/video option? How much storage space is enough? What operating system is better?
What I know is that I want to be able to read whenever and wherever, so it needs to be light, portable (aka fits in my purse), and without glare. Trying to understand the technical specs I will admit is a bit beyond me. I've also noticed that everyone who has one is a staunch supporter of whatever version they have.
At this point, I may stay happy and old school it with my books as heavy and awkward as they may be. We shall see. As my husband said, there are other items on my wish list that are much less complicated…purses, necklaces and earrings…never go wrong with a little bling!
Do you have one of these great new gadgets?
Can you live without one?
Hope you get everything on your wish list!
I'll let you know my outcome in January!
This post was written by Anne Boodheshwar. Contact Anne at anbood@comcast.net
Sigma Kappa Sorority's purpose is to provide women lifelong opportunities and support for social, intellectual and spiritual development by bringing women together to positively impact our communities. Our Sorority values individuality and diversity in our membership. As such, we ask our membership to consider the individual views of the women who post here within an atmosphere of care, respect and tolerance.
Pay Your Per Capita

Sigma Kappa Sorority now has the option for alumnae to pay their per capita fee through the Sigma Kappa website! Click the image above to learn about per capita and how you can contribute to our wonderful organization.

Still have questions about per capita? Click here to read our FAQs