Heart-Healthy Cherry Chocolate Chip Cookies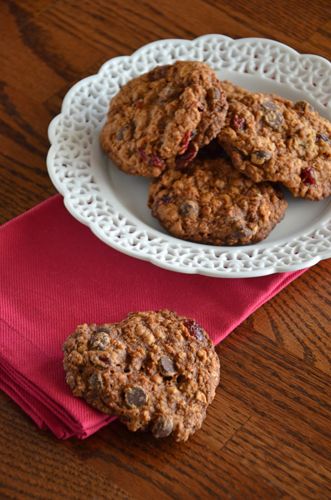 Happy February, sisters! In honor of this lovely month, I've baked up a batch of cookies that are heart-healthy and sweet to boot!
The antioxidants packed into cherries (called anthocyanins) aid in the reduction of heart disease and cancer. They also contain Vitamins C and E, potassium, magnesium, iron, folate, fiber, and are an excellent source of beta carotene (or Vitamin A). In fact, they contain 19 times more beta carotene than blueberries and strawberries! When doubled up with chocolate, you're fighting off high blood pressure, LDL cholesterol, the risk of diabetes, and that ever-present stress. Sounds pretty tasty, right?!
I even had a cookie bake up in the shape of a heart (pictured above)… I couldn't have planned that if I tried!
Heart-Healthy Cherry Chocolate Chip Cookies
Adapted from: Cooking Light, January 2010
PointsPlus™ Value: 3
Yields: 30 cookies, 1 per serving
1/3 c all-purpose flour
1/3 c whole-wheat flour
1 1/2 c old-fashioned rolled oats
1 tsp baking soda
1/2 tsp Kosher salt
6 tbsp unsalted butter, at room temperature
3/4 c light brown sugar, packed
1 tsp pure vanilla extract
1 lg egg, lightly beaten
1 c dried cherries
1 c dark chocolate chips
Preheat oven to 350 degrees F. Whisk together the flours and next three ingredients (through salt) in a large bowl; set aside.
Melt butter in a small saucepan over low heat. Remove from heat and add brown sugar, stirring until smooth. Add sugar mixture to flour mixture, then beat with a mixer at medium speed until well blended. Add vanilla and egg, beating until combined. Fold in cherries and chocolate.
Drop dough by tablespoonfuls, two inches apart, onto baking sheets lined with parchment paper. Bake for 12 minutes or until set. Cool on pans three minutes, then remove cookies to wire racks to cool completely.
What are some heart-healthy dishes you like to incorporate into your diet?

This post was written by Jessica Reddick Gatlin. Contact Jessica at jessica@mybakingheart.com
Sigma Kappa Sorority's purpose is to provide women lifelong opportunities and support for social, intellectual and spiritual development by bringing women together to positively impact our communities. Our Sorority values individuality and diversity in our membership. As such, we ask our membership to consider the individual views of the women who post here within an atmosphere of care, respect and tolerance.