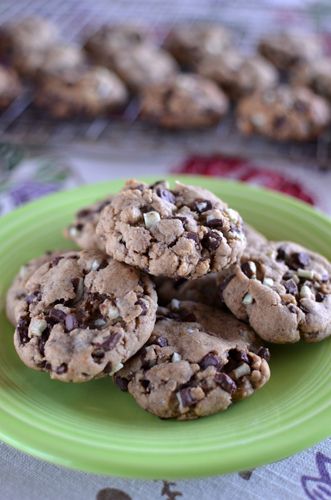 I know I'm a little early, but Happy St. Patrick's Day, sisters! You can't celebrate this lucky day without a tiny bit of green, right? Well, what better way than with a chewy & chocolatey cookie, filled with bits of Andes mints!
These are super-easy and make a perfect treat for school parties, office potlucks or the occasional mid-afternoon sweet! Because it doesn't matter how much or well I eat, I always crave a sweet after lunch. Just a note about the dough: It's very crumbly, even after chilling. Don't worry, though… it will come together when you're forming the dough balls!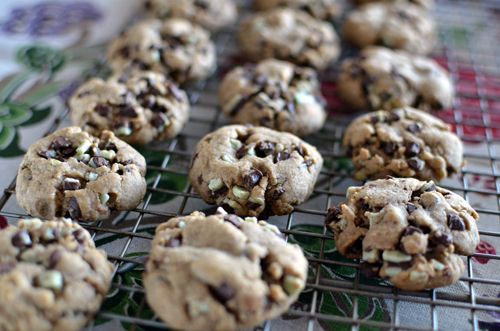 Mint Chip Cookies
Adapted from: Fearless Homemaker & Natalie Sélavy
Yields: About 2-1/2 dozen cookies
1/2 tsp baking soda
1/2 tsp baking powder
1/2 tsp dark cocoa powder
1/2 tsp Kosher salt
1-1/4 c all-purpose flour
4 tbsp unsalted butter, at room temperature
1/4 c + 1 tbsp light brown sugar, packed
1/4 c granulated sugar
1/2 tsp pure vanilla extract
1 lg egg
5 oz (1/2 bag) Andes mint baking chips
In a medium bowl, whisk baking soda, baking powder, cocoa powder, salt and flour together, and set aside. Cream the butter in the bowl of an electric mixer, then add both sugars and beat until light and fluffy, about two minutes. Add the vanilla, then the egg, mixing until fully incorporated.
Next, add the dry ingredients to the butter mixture, mixing until incorporated. Then, gently stir in the Andes baking chips. Cover bowl and chill dough for at least 30 minutes.
Preheat oven to 350 degrees F. While dough is chilling, line two baking sheets with parchment paper. Then, when dough is ready, portion into tablespoon-sized balls. Lightly press each dough ball with your fingertips to flatten the cookie a bit. Slide the baking sheets into the oven and bake for 8 to 9 minutes, or until just set on top. Cool cookies on the baking sheets for 2 minutes before transferring to a wire rack to cool completely.
Kiss me, I'm Irish!

This post was written by Jessica Reddick Gatlin. Contact Jessica at jessica@mybakingheart.com
Sigma Kappa Sorority's purpose is to provide women lifelong opportunities and support for social, intellectual and spiritual development by bringing women together to positively impact our communities. Our Sorority values individuality and diversity in our membership. As such, we ask our membership to consider the individual views of the women who post here within an atmosphere of care, respect and tolerance.
Pay Your Per Capita

Sigma Kappa Sorority now has the option for alumnae to pay their per capita fee through the Sigma Kappa website! Click the image above to learn about per capita and how you can contribute to our wonderful organization.

Still have questions about per capita? Click here to read our FAQs