Blueberry Chicken Salad Wraps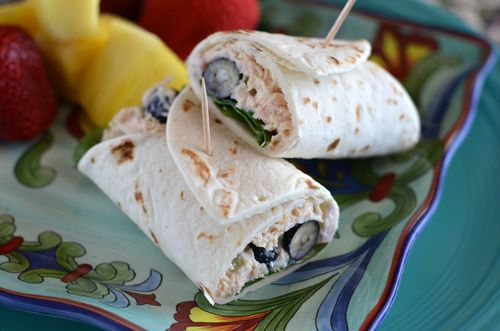 Did you know May is National Salad Month? It was a surprise to me, but being the foodie that I am, I love it! There's nothing better than a yummy salad, whether it's full of fresh, crunchy greens or flavorful, shredded chicken. I tend to eat salads several times a week, sometimes twice a day if it fits into our recipe plan. With the right ingredients, they're not only good for you, but super filling, as well.
When I first read about these Blueberry Chicken Salad Wraps, I was intrigued. I'd had grapes in chicken salad before, but never blueberries. So I was pleasantly surprised when I had my first taste! Great for lunches, showers and potlucks – I can't wait to make these wraps a part of our weekly schedule!
Blueberry Chicken Salad Wraps
Adapted from: The U.S. Highbush Blueberry Council
6 tbsp plain Greek yogurt
2 tbsp mayonnaise
1/2 c finely chopped celery
1/2 tsp Kosher salt
4 c shredded, cooked chicken
1 c fresh blueberries
Fresh spinach leaves
12 flour tortillas
In a large bowl, combine yogurt, mayonnaise, celery and salt. Stir in chicken until all is coated, then gently fold in blueberries. Top each tortilla with spinach leaves, then scoop about 3/4 of a cup of Blueberry Chicken Salad on to each tortilla. Roll each tortilla up, then cut in half. Secure with toothpicks, if desired, and serve.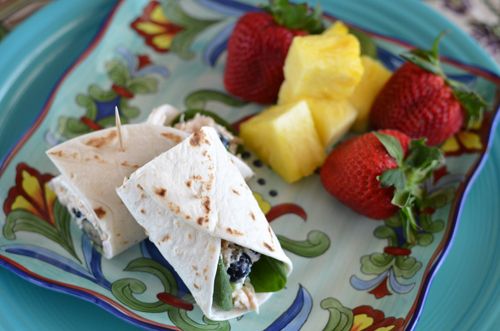 This post was written by Jessica Reddick Gatlin. Contact Jessica at jessica@mybakingheart.com
Sigma Kappa Sorority's purpose is to provide women lifelong opportunities and support for social, intellectual and spiritual development by bringing women together to positively impact our communities. Our Sorority values individuality and diversity in our membership. As such, we ask our membership to consider the individual views of the women who post here within an atmosphere of care, respect and tolerance.
Pay Your Per Capita

Sigma Kappa Sorority now has the option for alumnae to pay their per capita fee through the Sigma Kappa website! Click the image above to learn about per capita and how you can contribute to our wonderful organization.

Still have questions about per capita? Click here to read our FAQs