Whole-Wheat Applesauce Cake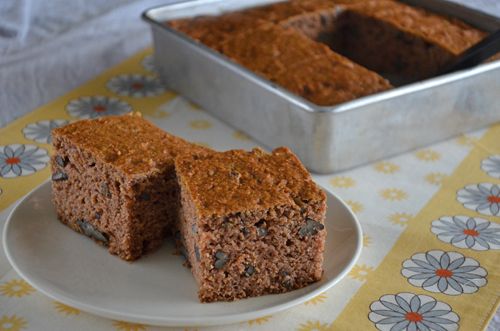 In the five-plus years I've been baking and blogging, I've never made a true 'applesauce cake.' So, to prepare for this month's post, I pulled up a Google search on the cake and was surprised to see just how popular this cake is. There were pages and pages of posts with varying recipes for this sweet treat. But in the end, I chose a classic cake recipe with a Southern twist to recreate for you.
And surprise! It's National Applesauce Cake Day… isn't that just the cutest way to celebrate a June Tuesday afternoon?
Whole-Wheat Applesauce Cake
Adapted from: About.com
1 c all-purpose flour
1 c whole-wheat flour
1/2 c Splenda for Baking
1 tsp Kosher salt
1 tsp ground cinnamon
1/2 tsp ground nutmeg
1/2 tsp ground cloves
2 tsp baking soda
1 c chopped pecans
1/2 c unsalted butter, melted & cooled
2 c unsweetened applesauce
Preheat oven to 350 degrees F. In a large mixing bowl, whisk together the dry ingredients. Add the chopped pecans and coat with flour. Next, add the butter and applesauce. Beat until well blended. Transfer batter into a greased and floured 9″ square baking pan.
Bake for 45 to 50 minutes, or until a toothpick inserted into the center of the cake comes out clean. Cool completely, then cut into 9 squares for serving.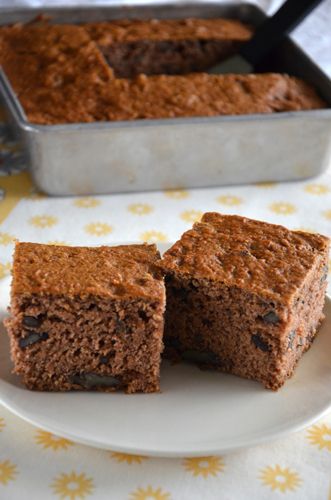 This post was written by Jessica Reddick Gatlin. Contact Jessica at jessica@mybakingheart.com
Sigma Kappa Sorority's purpose is to provide women lifelong opportunities and support for social, intellectual and spiritual development by bringing women together to positively impact our communities. Our Sorority values individuality and diversity in our membership. As such, we ask our membership to consider the individual views of the women who post here within an atmosphere of care, respect and tolerance.
Pay Your Per Capita

Sigma Kappa Sorority now has the option for alumnae to pay their per capita fee through the Sigma Kappa website! Click the image above to learn about per capita and how you can contribute to our wonderful organization.

Still have questions about per capita? Click here to read our FAQs