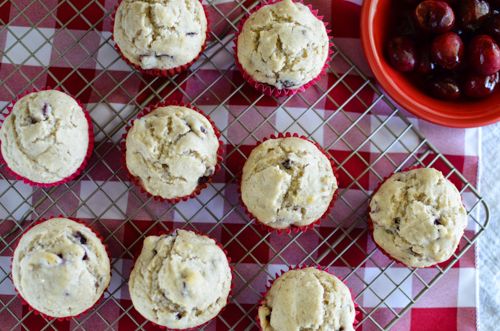 It's summertime and cherries are everywhere! They're flooding supermarkets, restaurant menus, and my Instagram feed… which led me to bake up these Cheery Cherry Muffins.
I had the chance to try out my nifty, new Cherry Pitter, too! Complements of OXO, this cherry pitter (also suitable for olives!) features a removable splatter shield that directs juices downward and prevents them from staining your hands and clothes. And even better, when the pitter is not in use, the splatter shield fits inside the front chamber and locks for convenient storage. Talk about handy!
Back to the muffins at hand, though. This is a simple, but beautiful recipe that is easily adaptable from season to season. Cherries today, apples in the Fall!
Cheery Cherry Muffins
Adapted from: About.com
Yields: 12 muffins
2 c all-purpose flour
1/2 tsp Kosher salt
1 tbsp baking powder
1/2 c granulated sugar
3/4 tsp ground cinnamon
1 c fresh cherries, pitted & coarsely chopped
1/2 tsp vanilla extract
1 lg egg
1 c skim milk
1/4 c unsalted butter, melted & cooled
Preheat oven to 375 degrees F. Line a 12-cup muffin tin with paper liners and set aside.
In a large bowl, whisk together the flour, salt, baking powder, sugar and cinnamon; add cherries and stir gently to coat. In a separate bowl, whisk together the vanilla extract, egg, milk and butter until well blended. Stir egg and milk mixture into the dry mixture. Fill muffin cups about 2/3 full and bake for 15 to 20 minutes.
To serve warm muffins, cool for 10 minutes. Otherwise, cool completely and store in an airtight container.

This post was written by Jessica Reddick Gatlin. Contact Jessica at jessica@mybakingheart.com
Sigma Kappa Sorority's purpose is to provide women lifelong opportunities and support for social, intellectual and spiritual development by bringing women together to positively impact our communities. Our Sorority values individuality and diversity in our membership. As such, we ask our membership to consider the individual views of the women who post here within an atmosphere of care, respect and tolerance.
Pay Your Per Capita

Sigma Kappa Sorority now has the option for alumnae to pay their per capita fee through the Sigma Kappa website! Click the image above to learn about per capita and how you can contribute to our wonderful organization.

Still have questions about per capita? Click here to read our FAQs