Ooey Gooey Rocky Road Bars
Football season is finally here! And if you one of those lucky thousands, you'll be tailgating every Saturday for the next three months. It's colorful, exciting and full of adrenaline, but preparing all kinds of snacks away from the conveniences and comfort of your own kitchen can be quite a task.
So, to make things a bit simpler, you can prepare these dessert bars the day before. And if you're partying with a big crowd, just double the recipe with a 9″ x 13″ baking pan. Easy peasy!
Go Team!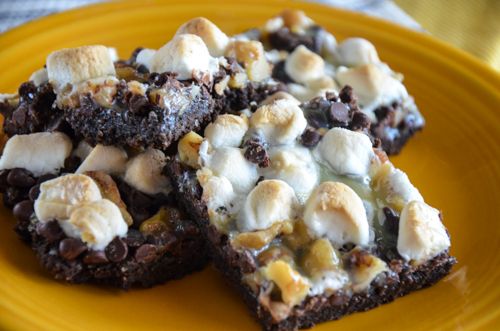 Ooey Gooey Rocky Road Bars
Adapted from: Weight Watchers
Yields: 16 bars, 1 per serving
PointsPlus™ Value: 3
4 oz chocolate wafers
3 tbsp unsalted butter, melted
3/4 tsp Kosher salt
1/2 c mini chocolate chips
1/4 c walnuts, coarsely chopped
1/2 c fat-free, sweetened condensed milk
1/2 c mini marshmallows, coarsely chopped
Preheat oven to 350 degrees F. Grease and flour an 8-inch square baking pan and set aside.
Using a food processor, process chocolate wafers into fine crumbs. Add butter and salt to crumbs and pour into prepared pan; press down to form an even layer for the crust.
In a small bowl, combine chocolate chips and walnuts; sprinkle evenly over the crust. Drizzle condensed milk over the top, then sprinkle with marshmallow pieces. Bake until chocolate melts and marshmallows begin to brown, about 15 minutes. Cool completely in refrigerator before slicing into 16 bars.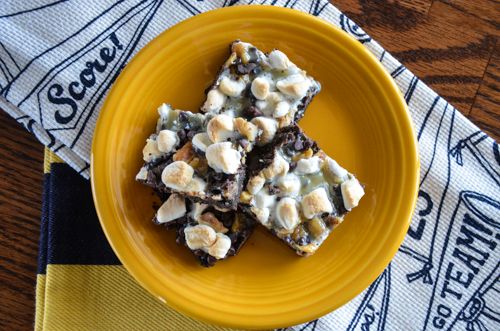 This post was written by Jessica Reddick Gatlin. Contact Jessica at jessica@mybakingheart.com