Pumpkin-Pecan-Chocolate Chip Cookies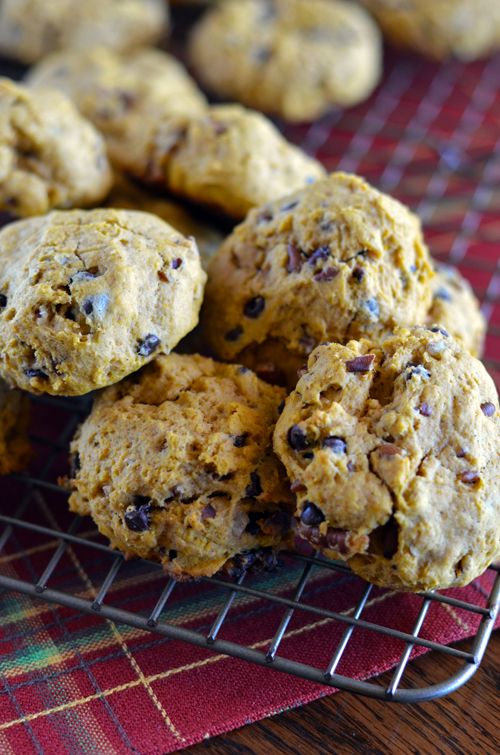 We're smack dab in the middle of tailgating season, and I hope you've had an opportunity to enjoy a game or two! It's also the first day of my most favorite month, October. Halloween is at play, my wedding anniversary arrives, and pumpkin-everything is in sight. I can officially bake with the stuff and not worry that I'm committing a seasonal mistake.
Some seem to think that even September is too early to stock up on cans of pumpkin puree, but to tell the truth, I would enjoy it all year long! I could easily eat a few of these cookies every day. They're simple to prepare and filled with good-for-you ingredients.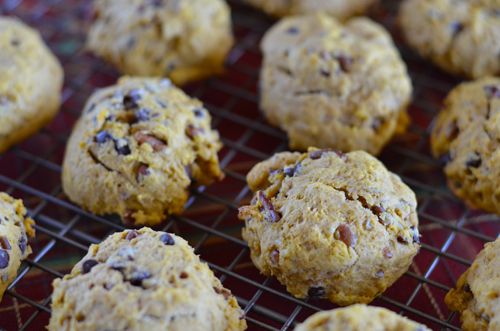 Pumpkin-Pecan-Chocolate Chip Cookies
Adapted from: Betty Crocker
Yields: 2 dozen cookies
1-1/2 c light brown sugar, packed
1/2 c unsalted butter, softened
2 large eggs
1/2 c pumpkin puree
3 tsp pure vanilla extract
2-3/4 c all-purpose flour
2 tsp baking powder
2 tsp pumpkin pie spice, heaping
1/2 tsp Kosher salt
1-1/3 c finely chopped pecans
1 c mini chocolate chips
Heat oven to 350 degrees F. Line two cookie sheets with parchment paper or silicone baking mat and set aside.
In large bowl, using an electric mixer, beat brown sugar and butter together until creamy. Add the eggs (one at a time), then the pumpkin and vanilla, mixing on medium speed. Fold in flour, baking powder and spices. Then stir in pecans and baking chips. Using a small cookie scoop (about 2 tablespoons in size), drop dough onto prepared cookie sheets, about two inches apart. Press down lightly to flatten, as these cookies do not spread.
Bake for 10 to 12 minutes or until edges are lightly browned. Remove to cooling rack and cool completely, about 30 minutes.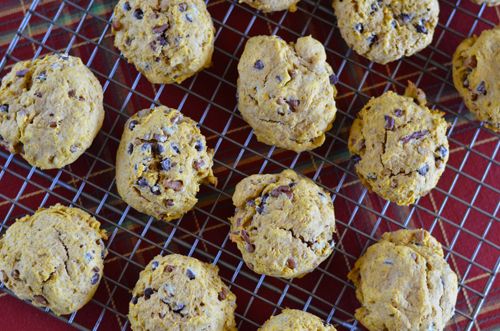 This post was written by Jessica Reddick Gatlin. Contact Jessica at jessica@mybakingheart.com
Sigma Kappa Sorority's purpose is to provide women lifelong opportunities and support for social, intellectual and spiritual development by bringing women together to positively impact our communities. Our Sorority values individuality and diversity in our membership. As such, we ask our membership to consider the individual views of the women who post here within an atmosphere of care, respect and tolerance.
Pay Your Per Capita

Sigma Kappa Sorority now has the option for alumnae to pay their per capita fee through the Sigma Kappa website! Click the image above to learn about per capita and how you can contribute to our wonderful organization.

Still have questions about per capita? Click here to read our FAQs