Chocolate Chip-PB-Banana Blondies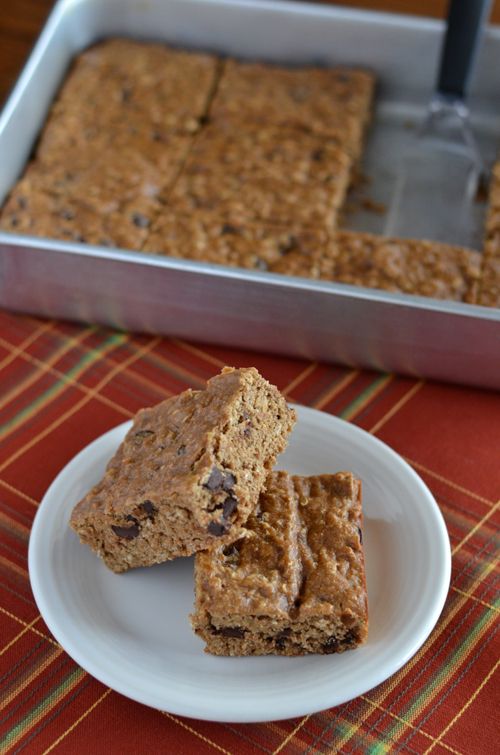 Incredible to believe, but it's already December. The turkey has been eaten, your overnight guests have departed, and the Black Friday sales are over.
I may be late to the game, but I'm just now lighting the tree and decorating the house for Christmas. I've also been busy baking all kinds of holiday treats. Between the office parties, family potlucks and cookie exchanges, there's quite a bit to put together. These Chocolate Chip-PB-Banana Blondies are a good fit if you're looking for a bit of energy during that 3 p.m. afternoon slump. And besides a sweet treat after a meal, they make a great breakfast on-the-go!
They're bursting with heart healthy oatmeal, protein-packed peanut butter and banana… and the dark chocolate doesn't hurt, either.
Chocolate Chip-PB-Banana Blondies
Yields: 12 large, or 16 small blondies
2 c whole wheat pastry flour
1 c rolled oats
1-1/2 tsp baking powder
1/2 tsp ground cinnamon
1/4 tsp Kosher salt
1/4 c nonfat, vanilla Greek yogurt
2 lg ripe bananas, mashed
1 c smooth peanut butter
1 c light brown sugar, firmly packed
1 tbsp molasses
4 lg egg whites
1 tsp pure vanilla extract
1-1/2 c dark chocolate chips
Preheat oven to 350 degrees F and spray a 9″ x 13″ baking dish with nonstick spray or butter and flour the dish, tapping out any extra flour; set aside. In a medium bowl, whisk together flour, oats, baking powder, cinnamon and salt; set this aside also.
In a large bowl, with a hand mixer, beat together yogurt, bananas and peanut butter until fluffy. Add brown sugar and mix until combined. Add the molasses, egg whites and vanilla. Mix on low speed until incorporated. Keeping the mixer on low speed, add the dry ingredients until just incorporated. Gently fold in the chocolate chips and mix until everything is combined.
Evenly spoon the batter into your prepared dish. Bake for 28 to 30 minutes or until the edges are golden brown and a toothpick inserted into the center comes out clean. Let cool for about 20 minutes before cutting into them. They may look a little undercooked in the center, but will set up after cooling.

This post was written by Jessica Reddick Gatlin. Contact Jessica at jessica@mybakingheart.com
Sigma Kappa Sorority's purpose is to provide women lifelong opportunities and support for social, intellectual and spiritual development by bringing women together to positively impact our communities. Our Sorority values individuality and diversity in our membership. As such, we ask our membership to consider the individual views of the women who post here within an atmosphere of care, respect and tolerance.
Pay Your Per Capita

Sigma Kappa Sorority now has the option for alumnae to pay their per capita fee through the Sigma Kappa website! Click the image above to learn about per capita and how you can contribute to our wonderful organization.

Still have questions about per capita? Click here to read our FAQs