Happy 2014, sisters! I hope your New Year celebrations were filled with family, friends and lots of love. My husband and I spent the evening in Dallas with friends, just steps away from the Big D NYE celebration… watching the fireworks and listening to the amazing bands up on stage.
Since a new year always brings about new changes and renewed hope for a healthier lifestyle, I'm bringing a good-for-you breakfast bread to the table. This Orange-Berry Bread is filled with whole grains and antioxidant-rich fruits, just perfect for a great start to your day. The flavor is tart and sweet, yet it isn't loaded with sugar. So here's to a brand new year and a healthy start!
Orange-Berry Bread
Adapted from: Panera Bread
Yields: 10-12 servings
Zest and juice of 1 navel orange
2 lg eggs
1/2 c low-fat buttermilk
1/4 c canola oil
1/4 c granulated sugar
1/4 c brown sugar, packed
1/2 tsp Kosher salt
4 tsp baking powder
3/4 c whole-wheat flour
1-1/4 c all-purpose flour
1 c fresh blueberries
Preheat oven to 375 degrees F. Coat an 8″ x 4″ loaf pan with cooking spray and set aside. Grate zest from the orange into a large bowl. Cut the orange in half and squeeze in the juice from both halves. Whisk in eggs, buttermilk, oil, both sugars and salt until blended. Scatter baking powder over the top, and let stand until foamy, about 3 minutes.
Whisk together both flours and blueberries, then add them to the wet ingredients, carefully folding just until the batter is almost free of lumps. Be careful not to burst the blueberries. Spoon batter into prepared pan and bake for 35 to 40 minutes, or until a toothpick inserted in the center comes out clean. Remove to a wire rack and cool completely.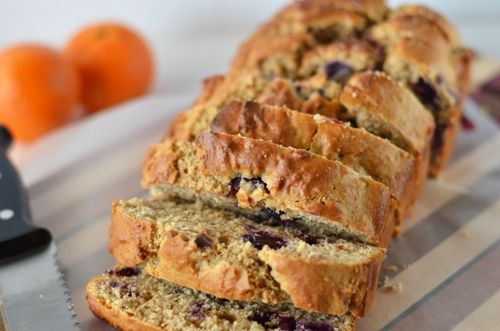 This post was written by Jessica Reddick Gatlin. Contact Jessica at jessica@mybakingheart.com
Sigma Kappa Sorority's purpose is to provide women lifelong opportunities and support for social, intellectual and spiritual development by bringing women together to positively impact our communities. Our Sorority values individuality and diversity in our membership. As such, we ask our membership to consider the individual views of the women who post here within an atmosphere of care, respect and tolerance.
Pay Your Per Capita

Sigma Kappa Sorority now has the option for alumnae to pay their per capita fee through the Sigma Kappa website! Click the image above to learn about per capita and how you can contribute to our wonderful organization.

Still have questions about per capita? Click here to read our FAQs